Feeding Therapy & Food Aversion Therapy
Mealtimes should be enjoyable and nutritive!
Mealtimes with your child should be a special time to bond and create memories. It's a time when families come together to communicate and share daily events. In short, mealtimes with your child should be both enjoyable and enriching for the entire family!
Some children, especially those with medical conditions, oral-motor weakness, Cerebral Palsy, Sensory Processing Disorder, and Autism Spectrum Disorder, may have a very hard time eating.
Your child, like many others may need a little help. New Beginnings can improve your child's eating habits and transform mealtimes in your home into a positive experience.
As difficult as feeding your child may be now, there is hope!
See if any of the items below apply to your child at mealtime:
Does your child…
Choke during eating or drinking?
Pocket food in their cheeks?
Have trouble breastfeeding?
Have stressful mealtimes?
Is your child underweight?
Have a "failure to thrive" diagnosis
Cough after eating or drinking?
Have a lip or tongue tie?
New Beginnings can help!
Our feeding therapy is child-centered and will allow your child to develop a positive, healthy relationship with food and mealtimes. Our feeding therapy is designed to work with parents to meet family and nutritional goals.
Our treatment takes into account medical conditions, oral-motor weaknesses, emotional, social, cognitive, sensory, and nutritional needs.
Therapy is individual. We do not treat in groups. You and your child will work with a well-trained and passionate Speech-Language Pathologist to get to the root of the eating problem.
Duration of therapy depends solely on your child's needs. There are no "group camps" because every child is different and may need more or less therapy to achieve feeding and nutritional goals.
Our therapists use approaches developed and proven to be effective, including:
Sequential Oral Sensory (SOS) Approach
Evaluation
The day of the evaluation, you will be asked to bring 2-3 foods your child eats and 2 non-preferred foods, as well as their feeding utensils, cups, bottles.
The evaluation will take approximately 45 minutes to 1 hour.
Treatment
Treatment depends on your child's identified needs and may be once a week, twice a week, or once every two weeks.
We have feeding clinicians at both our Rich Beem and Zaragoza locations to better serve you.
MEET OUR QUALIFIED STAFF!
Annette Barron, M.S., SLP-Intern
Speech-Language Pathologist – Intern

Annette is a native El Pasoan who received her Bachelor of Multidisciplinary Studies from the University of Texas at El Paso. She obtained her Speech-Language Pathology Assistant license and has worked in pediatric speech therapy in home health, and for the last seven years in a private practice setting. Annette has worked with children with various needs such as: Augmentative and Alternative Communication, Accent Reduction, Aphasia, Apraxia, Articulation Disorder, Attention Deficit Disorder (DD/ADHAD), Autism Spectrum, Cluttering, Cerebral Palsy, Down Syndrome, Intellectual Disability, and Stuttering. She recently graduated with her Master of Science in Speech-Language Pathology from the University of Texas at El Paso. She is currently working on achieving her Auditory Verbal Therapy certification and plans to get further trained in feeding therapy.
Annette enjoys working with children and providing them with the skills needed to let their voice be heard. She believes in early intervention and working with families to improve and increase a child's communication skills. Annette values the verse "Let us think of ways to motivate one another to acts of love and good works" (Heb. 10:24 NLT). She is a past secretary of the El Paso Speech and Hearing Association. New Beginnings is happy to have Annette on their amazing team!
Daniella Anchondo, M.S., SLP-Intern
Speech-Language Pathologist – Intern

Daniella earned her bachelor's degree at The University of Texas at El Paso. She earned her master's degree in Speech-Language Pathology from Emerson College in Boston, MA. As a pediatric Speech-Language Pathologist, Daniella shows an interest in the areas of feeding, dysphagia, and increasing language abilities. Daniella believes in shaping therapy sessions with each child's abilities and needs in mind to help them achieve a better quality of life. Daniella also understands the importance of collaborating with other disciplines, such as Occupational Therapy, in order to help generalize speech and language skills. "The ultimate and overall goal is to provide exposure and a stimulating learning environment where children of all backgrounds can relate to in order to improve their daily communication skills." In her free time, Daniella enjoys spending time with her loved ones, traveling, and spoiling her dogs.
Jordan Orozco, M.S., CCC-SLP

Speech-Language Pathologist

Jordan Orozco is a Speech-Language Pathologist (SLP) and Feeding Therapist who works with infants, toddlers, pre-school and school-aged children to help support their unique feeding and swallow difficulties. Jordan understands the various complexities that come with feeding/swallowing and the stressors that may impact parents/caregivers when their children are not eating well. Jordan believes that children deserve to feel confident and comfortable during mealtime. Jordan chose to pursue a career as an SLP because she believes that the ability to communicate and safely feed/swallow are two of the most intimate experiences one can have, and every child deserves that opportunity. Jordan holds a Master of Science degree in Speech-Language Pathology from The University of Texas at El Paso. Jordan is passionate about the El Paso community and has pursued a career as a pediatric speech-language pathologist to not only serve children in the community but their families as well. Jordan holds training in the Sequential Oral Sensory (SOS) Feeding Approach, which is a nationally and internationally recognized clinical program in helping children develop an improved life-long relationship with food. Jordan also holds training certificates in feeding 6–16-month-old infants and feeding children on the Autism spectrum.
Katelyn Vera, M.S., CCC-SLP
Speech-Language Pathologist
Katie is a home grown El Paso native and UTEP graduate. She became a Speech-Language Pathologist because she aspired to have a career dedicated to helping many people. Katie has focused her career thus far in the pediatric population in the specialty areas of dysphagia and food aversion therapy. Katie feels that eating not only provides nutrition for a growing child but should also be an enjoyable experience for a child and their family. Her professional goal as a feeding specialist is to work with a child and their family to identify and treat eating difficulties by increasing oral-motor skills and acceptance of foods in order to provide proper nutrition and alleviate stress during mealtimes.
Katie has training in the Sequential Oral Sensory Feeding Approach, a nationally recognized feeding program for children with sensory issues. In her spare time, she enjoys traveling and spending time with her family.
Stephanie Oropeza, M.A., CCC-SLP
Speech-Language Pathologist
Stephanie is a bilingual Speech- Language Pathologist who received her Master of Arts in Communication Disorders from New Mexico State University in 2021. Stephanie has experience working with individuals who have a multitude of needs including Autism, ADD/ADHD, Developmental Delays, Dysphagia, Down Syndrome, Intellectual Disabilities, Stuttering, Aphasia, Voice Disorders, Feeding/Swallowing Disorders, etc. She is very passionate about offering services that are meaningful to her patients and their families which will positively impact their everyday lives. She likes to create an environment where her patients feel safe and have fun learning! Stephanie is continuing her education and learning journey in the area of Feeding therapy & Food Aversion therapy to better serve our El Paso community.
Michelle Gonzalez, M.S., CCC-SLP
Speech-Language Pathologist
Michelle is a bilingual, certified Speech-Language Pathologist. She completed her Bachelor's degree in linguistics from the University of Texas at El Paso with a minor in Speech-Language Pathology. Michelle then went on to Our Lady of the Lake University in San Antonio, Tx, to complete her Master's degree in Communication Disorders. Michelle has worked in various settings throughout her career including an inpatient rehabilitation hospital, public schools, private services and an outpatient clinic. When she is not treating patients, Michelle spends time with her four-year-old son and enjoys traveling around the world.
Victoria Chacon, M.S., CCC-SLP
Speech-Language Pathologist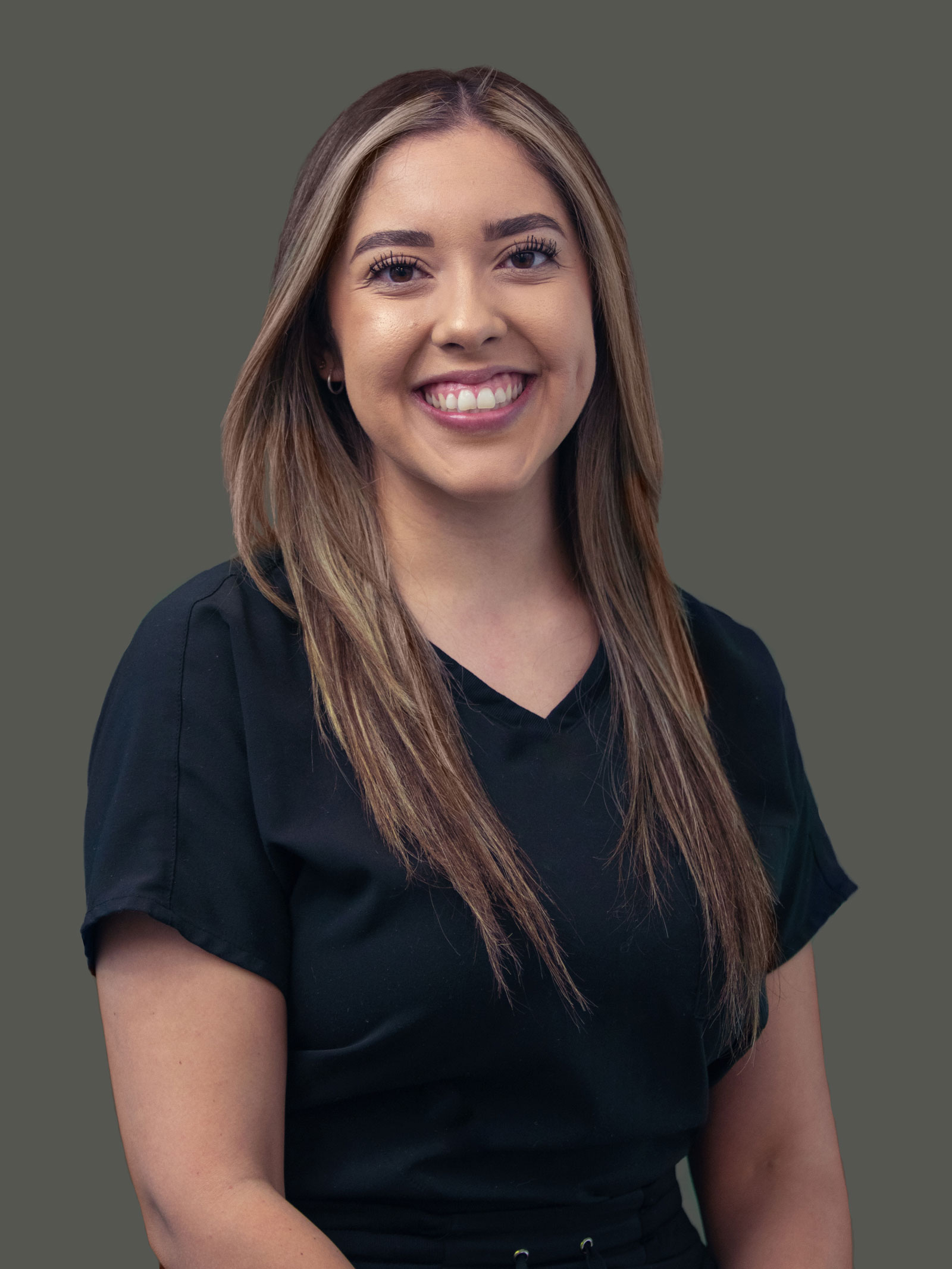 Victoria Chacon is a Speech-Language Pathologist who earned her Bachelor's and Master's degrees from the University of Texas at El Paso. She has an interest in the areas of feeding, dysphagia, and increasing her patient's speech and language skills. Victoria, or "Tori" as we like to call her, is also fluent in American Sign Language (ASL). She enjoys implementing ASL skills with children who are not able to verbally communicate. Tori has worked with children who have been diagnosed with Autism, Cerebral Palsy, Down Syndrome, and speech and language delays. Aside from the skills she has gained over her experience as an SLP, she is interested in expanding her skills in the area of feeding and dysphagia. She was able to be trained in assessing and treating Tethered Oral Tissues (TOTs) at New Beginnings, which is a restriction of frenas (tongue, lip, cheek ties) that can affect the way an individual speaks, eats, and swallows. Prior to choosing this career, Tori knew she was interested in working with children. She chose this path because she got to be a crucial part in a child's journey when working towards a better quality of life. Tori believes it is important to work closely with patient families and other disciplines, and to build rapport with her patients and their parents/caretakers to assist with a higher success rate or great outcomes. Tori states, "It is such a reward to be able to see the children's progress and to hear their families express how happy they are to communicate with their children in a way they weren't able to before."
Monica Tullius, M.S., CCC-SLP
Speech-Language Pathologist

A licensed Speech-Language Pathologist for over 24 years, Monica has been in private practice for the last 11 years. She is the Clinical Administrator and Owner of the New Beginnings Pediatric Speech Therapy Services, PLLC clinics where she supervises and leads a team of Speech Pathology Clinicians.
Prior to opening her private practice, Monica was a Speech-Language Pathologist in the public school system for many years. She also has experience in pediatric Speech Therapy in home health, charter schools, and private schools. She has worked with children with an array of needs, such as: Autism Spectrum, Language Disorder, Augmentative Communication, Voice Disorder, Orofacial Myofunctional Disorder, Cerebral Palsy, Articulation Disorder, Learning Disability, Intellectual Disability, Down Syndrome, Stuttering, Hearing/Visual Impairment, and Attention Deficit Disorder (ADD/ADHD).
She loves changing the lives of her patients!
Monica received her Orofacial Myofunctional training through the Academy of Orofacial Myofunctional Therapy (AOMT).
Monica is an active Member of the American Speech-Language Hearing Association (ASHA), Texas Speech Language Hearing Association, and a Member of the Academy of Applied Myofunctional Sciences (AAMS). She is a past Secretary of the EI Paso Speech and Hearing Association (EPSHA).
CERTIFICATIONS
Hanen Centre – It Takes Two to Talk
For questions or for an evaluation call one of our office locations:
(915) 855-0601 (East) or (915) 303-5177 (Far East)